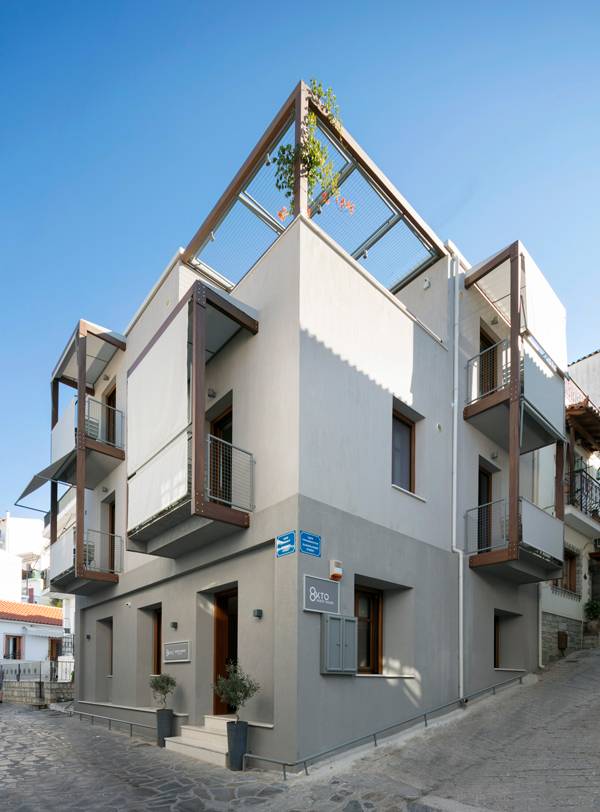 it's easy to feel the charm of 8kto Guest House
This building has been home to three generations of a local Skiathian family and has now been renovated to 8 guestrooms for visitors who wish to stay in Skiathos and have easy access to all that the town has to offer. A lot of love and care has been put into creating this guest house and we hope you will enjoy your stay with us!
What does 8kto mean?
8kto = okto = οκτώ = 8
Our guest house is new for 2018, situated in the heart of Skiathos town, within walking distance of restaurants, shops and nightlife. All guest rooms have been equipped with Coco Mat beds for extra comfort. Modern bathrooms with rain shower and amenities are provided in all the rooms. Rooms have been designed in modern and earth tones for a relaxing stay. There is a roof top garden for all guests to sit back and relax. Our aim is to provide guests a comfortable and relaxing stay in the midst of a busy town.
with double Coco-Mat beds you will have a refreshing sleep every night
Rooms include safety deposit boxes, new Led TVs, mini-bar fridge and are non smoking.
All rooms are equipped with controllable air conditioning for cool nights
Towels and free toiletries are included in the amenities amenities
how to come to 8kto Guest House
Great location in Skiathos Town
8kto guest house has a central location which enables our guests to be able to visit local attractions and entertainment by foot. Most popular places to visit nearby – Papadiamantis Museum, only 300 metres away, the port is 350 metres, Skiathos airport is 2 km, Bourtzi is 400 metres, the Windmill restaurant is 80 metres, Xanemos beach is 3.4 km and many good restaurants and bars within minutes of our guest house.
Find your way to 8kto Guest House easily no matter if you drive or walking. It's very close to Skiathos Port so you can navigate quickly.